Works
What is San Paper working on at the moment?
Interleaved black and white images.
Ganesha is a god of writing and learning, among other things, and he turned his broken tusk into a pen.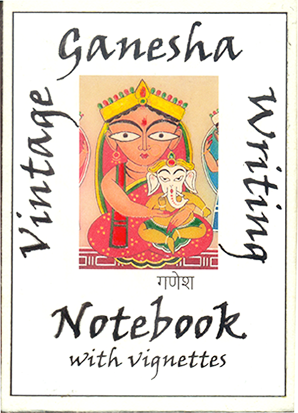 A6 Blank Notebook with an assortment of vintage images
80 pages Thai Green Read archival; bamboo paper cover on 2 mm boards; open silk spine; suminagashi endpapers
Never mind the quality, Feel the papeR
Vintage Paper of Orkney sent me two sample sheets of Whatman handmade rag paper. They must be 50 or 60 years old: details are 150gsm white (or 72lb in its day) looks almost new. What to do with them? I used one of the A5 sheets (210x148mm) for a watercolour drawing and the other for a chalk and charcoal impression. My printmaking is rusty, but I'd like to try a few wood and linocuts. That's in the pipeline.